Paw Balm
$18.00
Could your dog's paws use a little extra love? Are they dry, cracked, or irritated?
Paw Balm is an all-natural ointment that heals and moisturizes the pads of paws. Essentially, it's lotion for dogs. Made from natural ingredients, our Paw Balm is 100% lick safe, so you never have to worry about your babe ingesting anything they shouldn't.
It's poured in a push-up tube and designed for easy application; just push and roll! The days of using our fingers to scoop out of a jar are behind us. Additionally, our Balm is packaged in 100% biodegradable, eco-friendly material, which means you're leaving one less carbon paw-print behind.
Paw Balm is 2oz.
Ingredients: Yellow Beeswax, Organic Coconut Oil, Natural Shea Butter, Organic Sweet Almond Oil, and Lavender Essential Oil
Each balm comes with an informational card.
Customer Reviews
12/07/2021
Lauren

United States
Paws are soft in one day!!
I am blown away by this product!! My pup has pretty rough paws and typically hates his paws touched, but after a little positive reinforcement around the paw balm application he doesn't mind it at all!! And I'm not even kidding I applied it in the morning, and felt his paws at night and they have never been this soft!! It is my number one favorite product
12/01/2021
Morgan G.

United States
Works wonders
We live in Florida and are always out walking! My dogs paw pads get so dry and cracked from the hot concrete so the paw balm is out best friend! I love how soft her paws are after apply AND I don't need to worry about her licking them because of the all natural ingredients!! 10/10 recommend!!
11/30/2021
Taya

United States
Such a problem solver for cracked paws!
As you can see Matteo loves his paw balm. I try to get it on him about 3 times a week & I've already seen such a difference. It has helped heal & restore his dry cracked paws, as they are smooth and moisturized now! It's super easy to apply, and it smells sooo good. It is definitely a must in my house!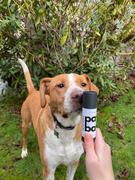 08/04/2021
Lynda F.

United States
Love the Palm Balm
I saw the paw balm on tiktok and I immediately placed an order. Since we recently moved to Arizona where the climate is more dry the paw balm has been amazing in keeping my pups paws soft. I received the product in a timely manner. I highly recommend the product and the company.
08/03/2021
Morgan G.

United States
Works amazing!!
I live in Florida, so dry cracked paws on my pup are the norm!! But with this amazing product, her paws are as smooth as ever! My pup loves when I put it on her, so it's definitely our fav!!
07/20/2021
Krista &.

United States
Amazing Paw Balm!
This paw balm has improved my doodle's paws so much since we started using it! I especially love the east to use applicator, and that it's lick safe (because he always attempts to lick it after application). Plus it lasts for a long time!
07/20/2021
Bethany T.

United States
07/20/2021
Jassmyn C.

United States
I SWEAR BY THIS
Mochi's (my dog) paws were starting to get a little rough. She is so active and loves being outside so I knew this would happen. We saw that Boho & Bark (we already had a few products from them) started to make her own!! When we tested it out, Mochi's paws were basically new born puppy paws. We swear by this and literally never use anything else.
07/19/2021
Zachary P.

United States
We Love this stuff!!
My girlfriend and I use this on our puppy when her paw pads are peeling or dry or need some extra love and it works wonders! bonus that it's lick safe because she licks half of it off every time!
07/19/2021
Aileen B.

United States
Dry cracked skin be gone!
Ok, I know this is for dogs and I bought it for my pup's paws, but I ended up trying it on my dry hands. I have been dealing with dry skin on my hands for the last month and I've been trying everything and nothing helped, until I tried this baby on my skin. 2 applications and it's as if I never had dry skin. If it's good on my hands I know it's great for my dogs paws. If you're debating on buying it, I'm telling you, it works!
07/19/2021
Avery W.

United States
Love this product!
I love this paw balm! I've been searching for the perfect paw hydrating serum, and I've finally found it! Coco's paws are instantly hydrated and softened after using this balm. I highly recommend not only this product, but this biz. One of my favs!
07/19/2021
Jordy B.

United States
Such a cute and effective product!
I love this paw balm! My husband and It got a puppy about a month ago and she loves being outside, so of course I can already tell her paws are starting to get very dry. I received this in the mail today, applied it on Scout's paws immediately, and I can already tell it's made a huge difference. Going to put it on her again tonight before bed :) Thank you Boho+Bark!
07/19/2021
Avery K.

United States
Amazing product!
I love this paw balm! It is new to me but I can already tell it is making a difference for my pup's paws. She also does not even budge when I put it on her—she must think she's at the spa! I love and will definitely order again! :)
07/19/2021
Tim

United States
A must have
My pup has had very dry paws for as long as I can remember. This balm worked like magic! Highly reccomend for the winter season coming up.
07/19/2021
mia

United States
YOU NEED THIS!!!
you definitely need this paw balm! it is so good for your pups paws it makes russells paws so soft! also it makes them healthy. before his paws were all dry and like scratchy, but after using b+b paw balm his paws were so good! you need this for your pets paws not for you but for your furry friend!use code RUSSELL10 for 10% off your purchase at checkout! just add it yo your cart and purchase it!!! - russell.the.dood
07/03/2021
Jasmin V.

United States
Paw balm
It was amazing making my dig paws soft (: