Holly Hot Coacoa
$20.00
Celebrate the holidays with a little piece of Boho + Bark! Thank you for bringing my shop into your home during this special time of the year. <3
All of our bandanas are sewn with fabric that is sourced from small business designers across the US. These fabrics are also made with water-based inks and dyes, which produce little to no waste, making these bandanas both eco-friendly and small business supportive. They truly hold a special place in our hearts.
Every bandana is a triangle shape that features our Boho + Bark label & is made from 100% cotton.
Customer Reviews
12/03/2020
Bobbie M.
United States
Precious
Love the material and the print! Keep up the awesomeness!!
AL
12/03/2020
Amber L.
United States
Lovely!
Love love love the light grey on this with my pups coloring!
12/02/2020
Catie
United States
All the warm fuzzy vibes
We love the hot cocoa 'dana >3 I remember the details that Lexi pointed out on instagram about the toasted marshmallows and the different colored chocolate chips and I just fell in LOVE! We are so lucky to have found this shop and are B%2BB fanatics for life >3 For reference, Rory is a 15lb cockapoo and wears a size small very comfortably.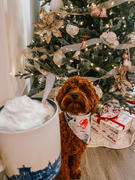 12/01/2020
Caitlin v.
United States
Boho %2B Bark fanatic
First off...... you will never find a kinder human than Lexi. She puts every fiber of her being into B%2BB and it shows. Every product is carefully selected with her customers in mind and she hits the nail on the head every. Single. Time. Bandanas, waste pouches, matching earrings, paw balm that she hand makes... I mean man, she is killing it! Lexi is intentional and makes sure she is true to herself and her brand. I will be a boho + bark fanatic FOR LIFE! Below I've attached a photo of my golden babies, the one on the right is wearing Boho + Bark holly hot cocoa.. looks so perfect! Keep doing you, Lexi & we will keep buying everything!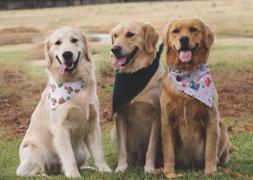 12/01/2020
Emma R.
United States