Sweater Weather
$18.00 $20.00
All of our bandanas are sewn with fabric that is sourced from small business designers across the US. These fabrics are also made with water-based inks and dyes, which produce little to no waste, making each bandana both eco-friendly and small business supportive. They truly hold a special place in our hearts <3
Every bandana is a triangle shape that features our Boho + Bark label & is made from 100% cotton.
Customer Reviews
01/16/2021
Sarah
United States
Fall staple!
We love all of the Boho and Bark bandanas got some of the ball bandanas. All of the bandanas are such high quality and they have a perfect size so they don't get too tight or too loose. Also if your pup is like mine it make an excellent tug toy for when she doesn't want to wear it For reference this is the medium and she was about 25lbs in this photo
12/04/2020
Sarah .
United States
Love!!!
The colors of this bandana are awesome!! The fit was great (large) for my 80lb goldendoodle. It stays on nicely and it's the perfect size. I loved the personalized note the owner put in our package too!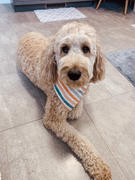 12/01/2020
Shannon
Canada
Quality is Amazing!
This is one of Chewie's most worn bandanas and the quality is amazingg! Back when it wasn't December and his dad was all "too soon for Christmas", this was our go-to choice for his 'dana!